tara.granke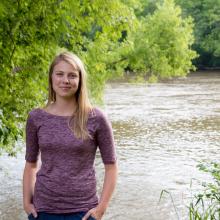 Job title:
Headwaters Youth Program Coordinator
About me:
I am the National Headwaters Youth Program Coordinator based out of Asheville, NC. My most important task is to connect children to nature and their water resources through TU's volunteer base and our partners. Calling the Blue Ridge Mountains "home" comes with its perks: I enjoy weekend hikes with my dog and husband, botanizing in one of the most biodiverse places on the planet , floating one of the many rivers, and exploring the newest culinary additions to Beer City. Email TGranke (at) tu.org
Favorite quote:
"Those who contemplate the beauty of the earth find reserves of strength that will endure as long as life lasts." - Rachel Carson, The Sense of Wonder "If you wish your children to think deep thoughts, to know the holiest emotions, take them to the woods and hills, and give them the freedom of the meadows; the hills purify those who walk upon them" -Richard Jeffries, The Dewy Morn
Other Interests:
podcasts
gardening
food preservation
and nutrition.
Group membership:
Southeast Conservation Project
North Carolina Trout Unlimited Rivercourse
TU Women's Discussion
Conservation
5 Rivers Program
Adopt-a-Trout (AaT)
Stream Explorers
Trout & Salmon in the Classroom (TIC/SIC)
TU Teens
Youth Camps & Academies
Science
Fishing with kids
Outdoor Communicators
Land O' Sky - 033
TU Businesses & Guides
Ohio - 9OH
Women's Initiative Chair Forum
Georgia Council - 9GA
California - 9CA
Virginia - 9VA
Madmen - 477
Washington - 9WA
Kitsap-Olympic Peninsulas - 383
Schrems West Michigan - 021
Pennsylvania - 9PA
Rogue River